Seriously?! What
else
haven't I posted here?!
Converts offsets into Player/Unit ID, and vice-versa. Supports arrays in memory (1, 2, and 4-byte) and supports both signed and unsigned Unit ID values.
Copy/Paste StarForge triggers or export a *.trg file containing all the triggers you have added (up to one block; 16 conditions and 64 actions. Multiple blocks will have to be prepared and exported seperately.)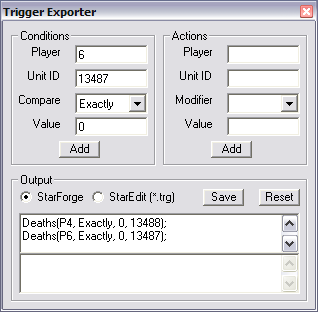 Updates
:
1.2:
- Fixed death table bounds. Unit ID 65535 can now reach to player 256 (I don't know if this is in any data segment, but it is nice to have proper bounds.
)
- Fixed *.trg exporter's Player ID being 0-based (in other words, putting 1 for Player now means P1 and not P2 in the *.trg file generated.)
Download!
Comments? Suggestions? Death threats?
Post has been edited 2 time(s), last time on Feb 8 2009, 11:29 pm by FaRTy1billion.
TinyMap2
- Latest in map compression! ( 7/09/14 - New build! )
EUD Action Enabler
- Lightweight EUD/EPD support! (ChaosLauncher/MPQDraft support!)
EUDDB
-
topic
- Help out by adding your EUDs! Or Submit reference files in the References tab!
MapSketch
- New image->map generator!
EUDTrig
-
topic
- Quickly and easily convert offsets to EUDs! (extended players supported)
SC2 Map Texture Mask Importer/Exporter
- Edit texture placement in an image editor!
This page
has been viewed [img]http://farty1billion.dyndns.org/Clicky.php?img.gif[/img] times!