Two concepts I'm currently working on are making less messy kitbashes and multi structure GRPs. I was inspired by Chaos Island, a Red Alert style RTS based on Jurassic Park. I wanted to make a topic about this for some time but I've been putting it off because I wanted to have more to show. Unfortunately I only have these two thus far.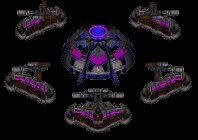 My next project is a warehouse complete with crane, barrels and boxes.



SEN Global Moderator and Resident Zealot


-------------------------
The sword and the faith.
Sector 12
My stream, live PC building and tech discussion.