Introduction
The SCMOTD program is a daily showcase of very fun, highly replayable, and well made UMS maps.
It is to teach players the diversity of StarCraft maps and show them the "hidden gems" beneath
battle.net's popularly homogenized game list. Personally, it is a place where I list my favorite
maps that would probably be liked by many others. You can
browse the gallery here
.
Summer is coming, and more people will be playing battle.net, and probably searching for more maps.
Since I plan to do this until Fall, it will be quite time consuming. The process of adding a map
takes playing a game on battle.net (usually full house), finding the most descriptive and intense
moment to take a screenshot, and opening the map to learn the features so they can be annotated to
help future players.
As I wrote more MOTDs, the process became easier, but finding a good map is the hardest because
I am very picky and only play in a few map genres. So what other place to find good maps than
a map making community? Even better, why not let the UMS veterans choose the map too!
The Proposal
Recommend fun maps!
You can even recommend your own maps, but you should honestly decide if it would be appreciated by
the average battle.net players. Also, if you are so helpful, you can write up a MOTD page or give
a clean screenshot of the game; I would be most grateful for that!
Please first view the MOTD index to see if your recommendation is already featured. I will play
every map you suggest, so please help the process by giving me the link to the map if it is not already
in my hard drive.
Here is the current MOTD format:

-----------------------------------------------------------------------------------------------
Map Title
NumberOfPlayers Game Type, Terrain and Size - by Author in EstimatedDateofRelease
A concise one sentence description.


A definitive and engaging screenshot of what players should expect in the game
Bonus if the minimap is well revealed, but the screenshot should not show any distractive hacks.


Features and information that will be important while playing
-----------------------------------------------------------------------------------------------

If that feels simple enough, great! go ahead and write a MOTD page here. If you got a good map in mind, tell me!
...
Read on for screenshot tips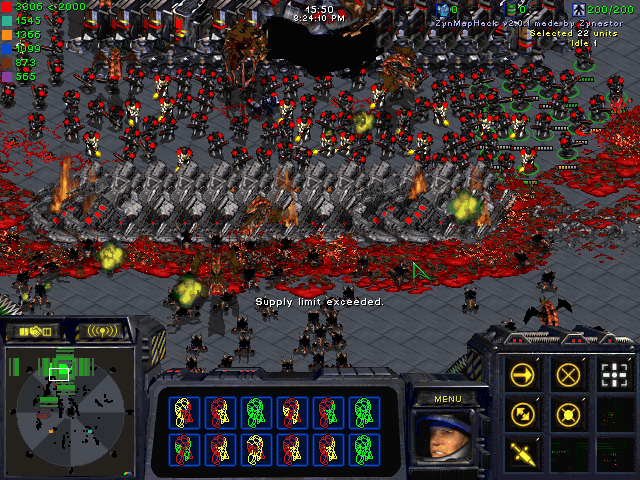 This is a good screenshot because:
1.
It shows action, drawing the viewer toward playing the map
2.
It is engaging, the viewer feels as if he is there since red is the screenshot taker
3.
It is representative, it shows what a typical moment in the game would be like and the apparent features (stacking)
4.
It has photographic elements: it doesn't abruptly cut off objects (barracks), it shows all it can in its limited frame (red and the enemy)
5.
You can see the mini-map
Note that there is a hack Heads Up Display on the top, if this picture weren't as intense, viewers would be distracted by the hack and feel the negative associations with hackers
Post has been edited 8 time(s), last time on Dec 6 2009, 11:19 am by Drant.