Cataclysm
A single-player role-playing game by Fwop_
PROLOGUE
Soon after the death of Idumea, the planet of Edom and its people suffered through tempests, earthquakes, fires, whirlwinds, and pysical upheavals; the structure of the land underwent a complete change. It has been four years since the disasters. People have built new cities and returned to the lives they once had, except with a cost unknown to them -- they are enslaved by the Shadow. Though unaware of this, it is evident in their everyday mannerisms; the Shadow has indeed made puppets of his children.
What is to come of Edom will be reciprocal of Aeson's journey. Continuing now on the shore west of the little town Palm.
GAMEPLAY
Battle System
The battle system will not be complex, so there is no need to learn anything new (unless you've never moved units to cast spells before). Two reasons for this: (1) I had originally planned something very intensive, something which would take up most of my time to trigger, but came to realize that such a system would just be a hassle and (2) I don't want to detract from the story at all. By leaving out any complexity with my systems (at least nothing
too
complex for anyone) I hope to keep more attention on the plot as opposed to grinding levels to get stronger.
I intend to make the map easy enough where you will never have to deviate off the main objective to get pass a boss, but I also hope to make it flexible enough where you can do such things as low-level or speed runs.
Spells
Easy enough. Move the unit to cast, wait for it to reach 100% health, cast again. Spells can be learned either by leveling or by realizing them through the use of skill points. I won't go into to much detail on the spells themselves until I'm satisfied with what I've come up with and I've implemented them into the map.
Spells so far:
• Heal
• Plural Strike
• Charge
• Doppleganger
• Glass Starburst
• Focusyn
• Rosario Impulse
• Regen
• Dodge
Inventory
I have not decided on how I want to set up the inventory (if I play on even keeping it), but as of now it is controlled by dark swarm.
There is no more defiler, I've pretty much abolished my inventory system. There was no reason for me to keep it. Though, there will be things like artifacts or unique items or whatever you want to call them, but those will be seen through the console system.
Console
Use a shuttle to scroll through several menus such as Spells, Items, Quests (subject to my string usage), and Support Character AI. This would have to be the most complex (complex for the player to understand) system in the game -- relatively, anyway, it's not complex at all, I just don't want people confused about using it. Use the console to upgrade or learn spells, view spell or item information, check your standing on quests (subject to string usage), and change the AI for support characters (type of movement, type of battling, etc.). By moving the shuttle you can talk to people, enter buildings, open treasures, and other things.
PROGRESS
• Terrain - 70%
• Story - 15%
• Triggers - 20%
• Overall - 10%
SCREEN SHOTS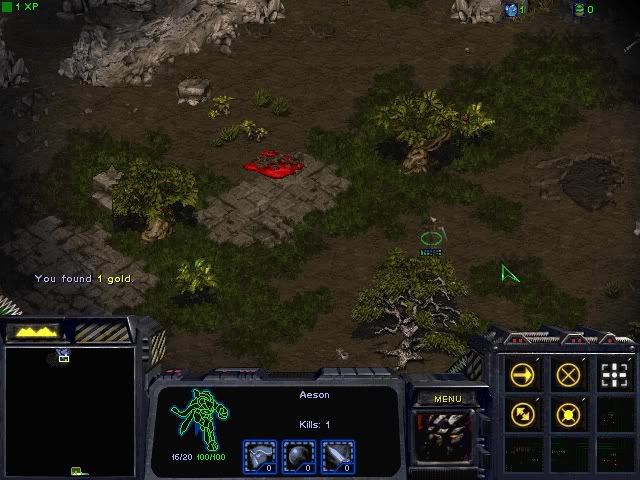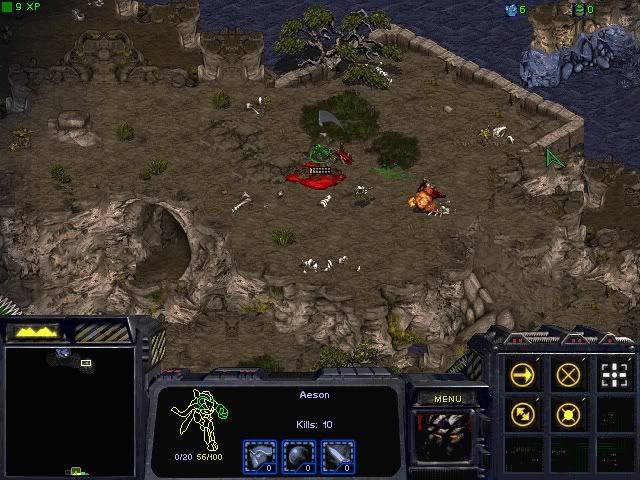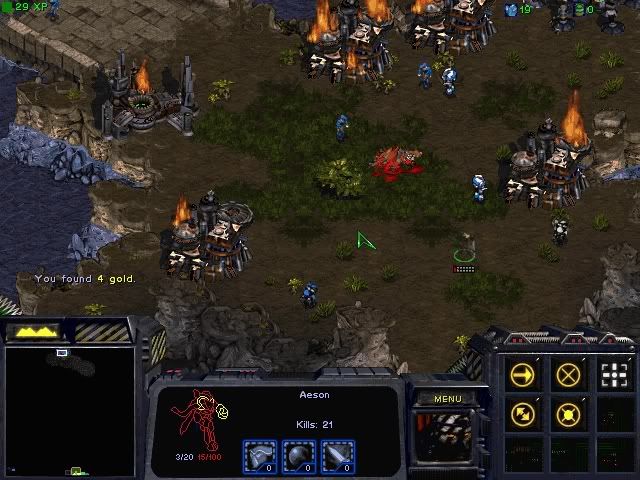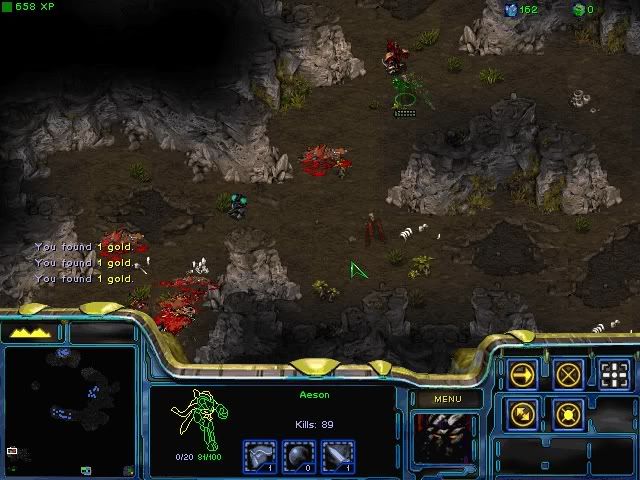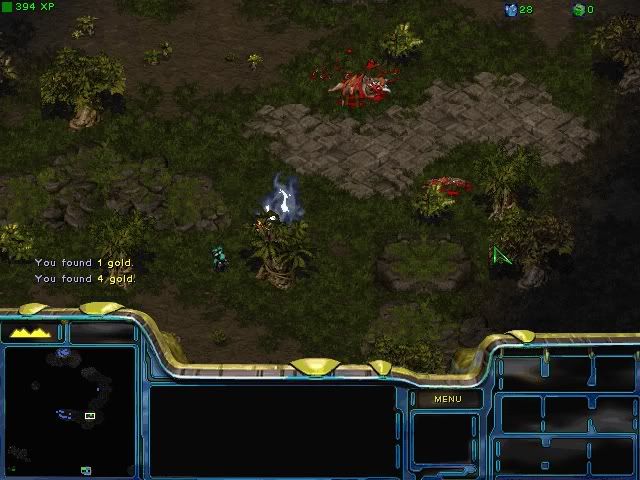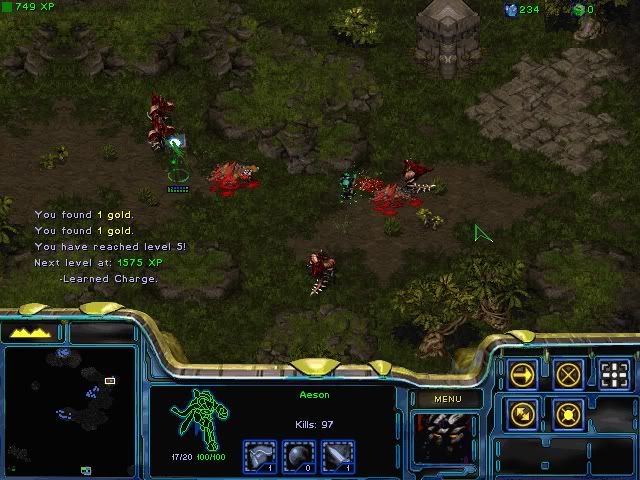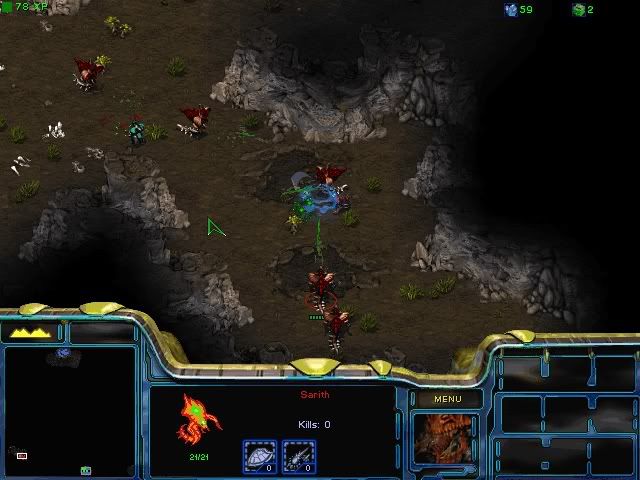 FINAL WORDS
Understand that the Prologue I've given is just the text in the mission briefing. There will be much more to the story than that. I purposefully left out information, because it would be just silly to tell you everything I plan to put into the map (story, characters, quests), you will just have to find that out for yourself when you play. Any questions? Just ask. Any comments? Post them. Any suggestions? This isn't your map (just kidding, I'm willing to hear whatever you have to offer).
I will add more information later if enough people bug me about it. But don't expect too much.
Post has been edited 4 time(s), last time on Jan 29 2009, 5:52 am by Fwop_.