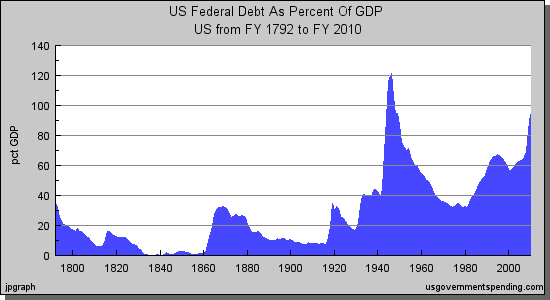 Source
Source
Historically, America has incurred massive debt during wars. In the 1980s, Ronald Reagan increased deficits by cutting taxes and increasing the size of America's military. In the 21st century, low tax rates and retiring Baby Boomers threaten to raise the debt even further. America's debt has already surpassed GDP, and it continues to rise. The biggest expenditures are found in transfer payments (e.g. Social Security, Medicare, and Medicaid), interest on the current debt, and the military. Every domestic program (not including entitlements) only occupies 11% of the budget, so cutting agricultural subsidies, oil subsidies, educational grants, etc. would barely put a dent in the deficit. The wars in the Middle East have only eaten up a small faction of the national budget, and the US has already pulled out of Iraq and reduced the size of its military. Clearly, something must be done about Social Security, Medicare, and Medicaid. We must reduce the cost of those programs or raise taxes to ensure their continued functioning.
Liberals argue that we should raise taxes to make up for the growing deficit. Conservatives argue that we should reduce the size of government. The question is, what do we cut? And what can we do to stop the growing problem of debt?
Win by luck, lose by skill.