Map name:
Defend The Hill
Creator:
SSieg
Type:
Team defense map
Goal:
Defend HQ
Size:
256x256
Tileset:
Desert
*Updated graphics* (left = old, right = new)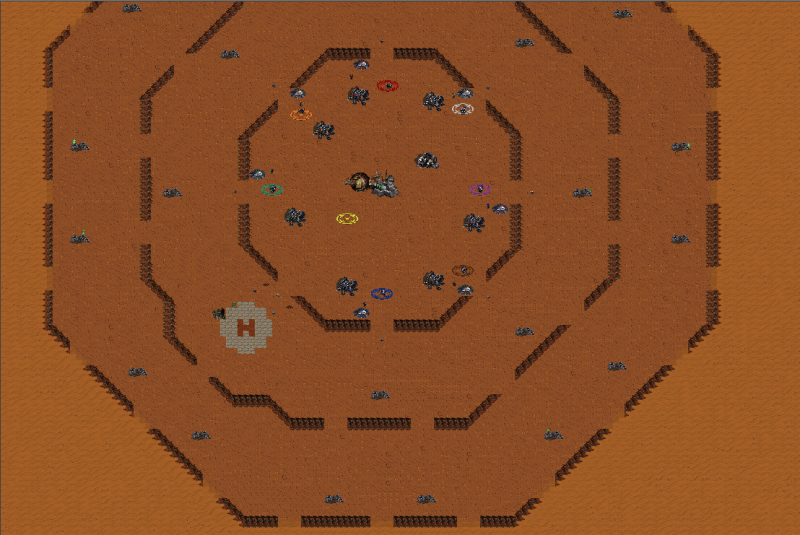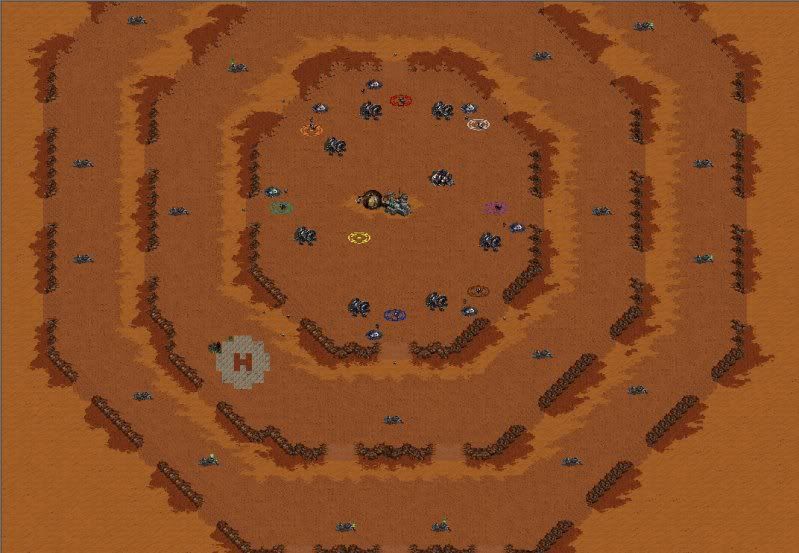 Description
The hill consists of 3 octogonal rings, which each have an increasing number of 'ramps' or 'gates' all around. You start out with 7 players on the top of this hill. Right in the center is a building named "HQ" (Head Quarters). The goal of this map is to defend HQ against incoming enemy forces. Since the map is 'circular', enemies will be spawning from all directions (24 total). When HQ is destroyed, the game will end in defeat for all players. You win by simply surviving the attack waves.
In the inner-circle there are 8 gates, 1 for each player to defend, plus 1 with automatic defenses. In the 2nd circle there are 15 and the 3rd circle has 24 gates. (see picture) So the further out you go, the more gates every player has to defend. So why not all sit in the inner-circle and defend that? Cause you wont get many minerals.
Minerals
You obtain minerals by building refineries. For every refinery, no matter who owns it, ALL teammembers get 1 mineral every 20 seconds (Approx.). You start with 1 refinery near the center of the inner-circle. This will not be enough to buy adequate defenses tho, so you will have to expand to the next ridge (where more geysers are located) to build more refineries.
Gas
Gas is used for special abilities. So far there is only 1, but I plan to add more.
In the center, right next to the HQ, there is a big artillery cannon.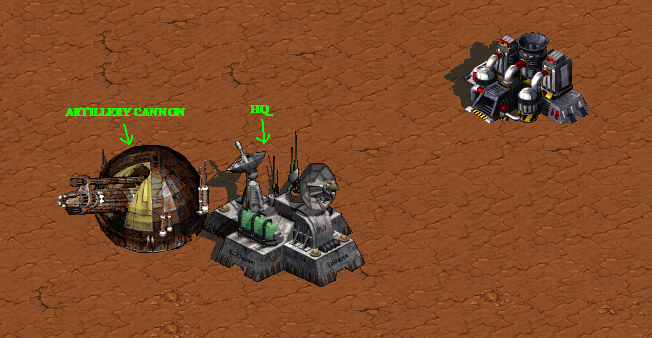 For 10 gas, you can buy a round for this cannon. You aim it with an observer, and fire it by deploying a special tank. All units within the affected area will be destroyed. It does not destroy buildings. If the big cannon is destroyed, you can ofcourse not use it anymore.
So how do you get gas?
The H-pad
Because the ridges are in the shape of an octogon, with 7 players this leaves 1 open gate. This gate leads to the Helipad. It is initially defended by 2 powerfull floortraps and some spidermines, but after a short while they will get destroyed and the players should work together to defend it.
This Helipad is a landingzone for dropships. Every so often, a GasTransportShip will arrive and land on the Helipad. It will drop off some gastanks and leave. Players can use their SCV to pickup these gastanks and bring them to HQ. For every collected gastank, ALL players will receive 5 gas.
However, if the Helipad is left undefended, the incoming enemy forces will easily destroy the gastanks. And no gas means no special abilities.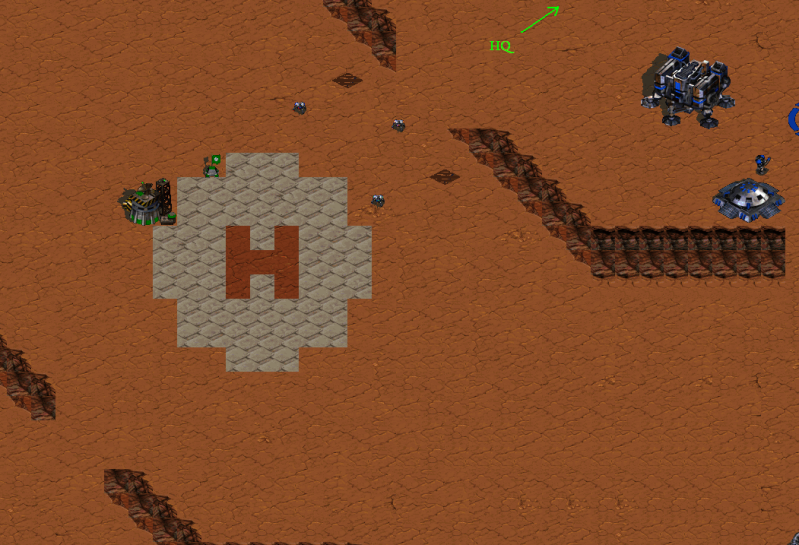 Additional notes
This map is designed for teamplay. There is no competition between players. Everyone gets the same amount of income, and players have a common goal. Having the most kills on your name has no effect whatsoever. I did this to prevent arguments over kill-stealing. I want players to help eachother instead of fighting over who gets what spot.
This map is underconstruction. Its is fully functional as described above, but I am still adding to it and making some adjustments. My username on battlenet is 'SSieg'. I created this map from scratch and ask you kindly not to edit it

I frequently host this map, but if I'm not there, feel free to host it yourself.
Edit:
The map in its current state is
UNBEATEN
I need a good team to beat the map so I can add more attack waves and make a good ending
Post has been edited 3 time(s), last time on Apr 27 2009, 11:49 pm by SSieg.