Europe
Zombies
2
A continuation on S.Hussien's abandoned "Zombies Europa"
---
SPECIFICATIONS
Players
Requires 6-7 players

Map Tileset
Jungle

Map Size
256x256

---
STORY
The Rage Virus has erupted in Britain, while a G-Virus outbreak has matured and spread from the Middle East all the way to Greece.
Germany
and
France
will try their best to hold the zombie hordes in check while their
American
,
Scandinavian
, and
Russian
comrades mobilize.
---
What's New?
Foreign Aid - You are given a kahlis crystal to transport to any 1 country periodically.

If a human leaves, their neutral units don't beat you to the ground. Yellow is human allied.

Noob detection - If a player is doing nothing, the map recognizes them as a newb. They are given a tutorial and a few free units.

Colors are cooler ;p

Each country has a very specialized role, and strength.

Just spamming your 1 hero unit is no longer the best strategy.

Zombie expanding is most done via infesting command centers.

Income is now constant small doses.

Tunnel/sewer systems expanded.

Zombie Army limit reduced to 150.

---
COUNTRY DETAILS
Germany


Income : A
Army Quantity : B
Army Quality : B
Expansion Potential : F
Biohazard Prevention : A (border defenses)
• High quality tanks and firebats
• Most powerful human player. Starts near its maximum potential. An average player can keep zombies in check for the first 5 minutes while his allies build up. Its only draw back is no surrounding territory to capture. This just gives Germany more time to micro his army and send foreign aid.



USA


Income : F
Army Quantity : F
Army Quality : A
Expansion Potential : D
Biohazard Prevention : B
• All units except firebats are high quality. With its above average biohazard prevention abilities, the only way it's going down is if Mid-East zombies throws every single thing it has at it, which would be suicide for the zombie. USA is quality over quantity, but can be extremely deadly if humans give their foreign aid to him. Expanding also goes a long way with the USA. Has nuking ability.



France


Income : A
Army Quantity : C
Army Quality : F
Expansion Potential : C
Biohazard Prevention : B
•
in progress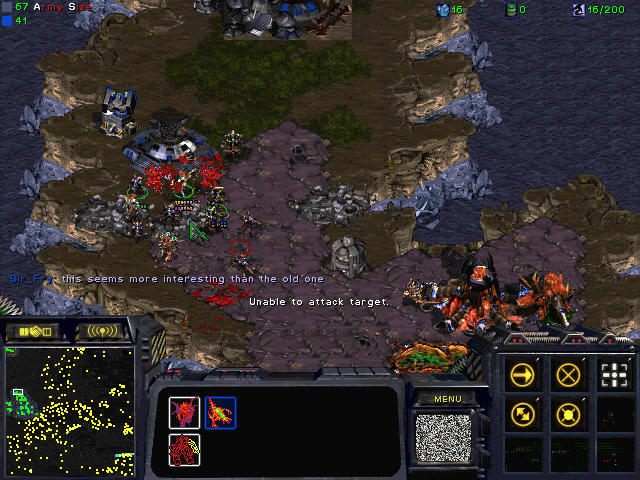 ---
Current Version
======>
http://www.staredit.net/?file=1889
Planned Additions
• Give computer attack intelligent scripts
• Have tutorial give noobs objectives to complete, and react to what they are specifically doing wrong
• Add more events
• Remove terrain blocks
UPDATES
1/30/2010 2.03 - Actually fixed desyncing

1/30/2010 2.02 - Thought I fixed desyncing, but didn't

1/29/2010 2.01 - first release

Post has been edited 6 time(s), last time on Jan 31 2010, 6:24 pm by ClansAreForGays.