---
CRUSADER KINGS


I consider Paradox Interactive "Crusader Kings 2" to be one of the greatest strategy games/dynastic simulators ever made.

I'm basically just taking some of the concepts from CK2, simplifying them, and throwing them into a Starcraft map. The world is broken up into dozens of duchies. Soldiers aren't constructed but are instead raised from your holdings (depending on how upgraded they are); duchies and counties can be upgraded to provide more income or soldiers, and during war players can generally only take one duchy (if in a holy war, or claimed) or county away from someone else. Basically there's no "one-shot-kill" warfare.

Aside from personal ambition to expand one's kingdom and wealth in Europe, one of the driving forces in the game will be religious conflict between Islam, Christianity, and Paganism; the Pope will call Crusades in Italy, Jerusalem, and Spain, and the Muslims will lay siege to the Eastern reaches of the Byzantine Empire.



---


This is a diplomacy map; it will have a maximum of seven players. There'll be a few key differences to other diplos: there is much greater focus on economic expansion rather than on military expansion. Because of the nature of the era, technology advances will be minimal. There will also be no (or limited) naval combat. It will be a very melee heavy map with an attempt to create some rock-paper-scissors mechanics amongst unit types. Rivers and mountains will be featured in the game but will be reduced in scale so as to account for the lack of ranged units, to prevent annoying bottlenecks from happening in combat.

There are "Major Nations" but their presence in a game isn't required; the map will attempt to adjust for their absence. Similarly the game is very open-ended; there will be very few scripted sequences except for major historical events and religious wars.


---
Selectable starting date between 1066 (post-Hastings England) and 1337 (Hundred Year's War).


20+ Selectable nations; from the majors like France, England, and the HRE to small kingdoms like Sicily, Croatia, and Ireland.


Upgradeable structures; individual Duchies will comprise four to five different structures that can be upgraded individually, up to level 5, to provide different bonuses; increased archers, increased cavalry, increased income, longer siege times, etc.

Each county can also either be a Town or Castle (economic vs military bonuses) and can be upgraded to increase its yield.


Complex diplomacy: the ability to marry rulers, and build up this marriage into a military alliance. Spend money to fabricate claims on your rival's titles. Spend money to attempt to assassinate rival rulers, or to sabotage their reputation with their vassals.


Warscore: functionality that can determine a victor in an alliance war, or force the enemy to accept demands in a total victory. I'll base it mainly on the size of opposing forces' armies and whether a war target has been conquered or not.


Siege: In order to conquer enemy territory in war, you have to hold your men in the province and "siege" all of its holdings. Occupation shifts warscore in your favor.


Crusades: the Christians and Muslims will occasionally call Crusades or Jihads on one another and participation is voluntary -- but the rewards are great. In religious wars, defenders will get bonuses in troop levies, higher vassal opinions, and access to religious orders that will fight for free.


Army Upkeep: raised soldiers will substantially drain your treasury. Wars in Europe will be expensive ventures. Getting into "debt" will negatively impact you (levies spawn with reduced health, mercenaries will abandon you, revolts will become common).


Mercenaries: the ability to raise fresh mercenary soldiers for a considerable cost to supplement your levies. They spawn instantly in your capital province.


No map-protection: I hate it. I'll construct two versions of the map; a compressed and uncompressed one. The uncompressed one will feature all of my triggers and documentation for the map in case a new mapmaker is curious about a triggering system or something. The compressed version will be the one intended for use on Battle.net

---
POSSIBLE/LOW PRIORITY FEATURES
Rulers:


Laws:, which primarily affect the income and troop levies in a realm, at the cost of money or opinion.


Selectable game-mode: on top of the selectable starting date; essentially a "Hardcore" diplomacy versus a "Normal" diplomacy. The difference would be in the pacing of the game and expanded or protracted diplomacy options.


Demesne: distinction between territory controlled by the crown (you) and territory controlled by your vassals. Soldiers raised by vassals will not cost you upkeep, but will come at a gradual cost in opinion. Your personal soldiers will cost money to field.


Tutorial: I plan to include a very comprehensive dropship-menu based help system that should explain all facets of the map. This is low-priority because I won't bother with it until all essential game systems are in place.


Assaults: the option to assault a castle and bypass a lengthy siege.


Additional starting years: I might also consider adding 1145 to the timeline to represent the Second Crusade.


Vassal opinion: a simple vassal opinion feature, that determines their willingness to provide their full levy and income to you. I'll try to think through a "general" opinion feature and a "specific" one on a per-duchy basis.


Vassal revolts: a low enough opinion will begin to exponentially increase the potential for a vassal revolt, wherein a duchy will revolt against your rule and attack you. There might be potential for other vassals to join in the civil war. A revolt might either result in independence or to lower an unpopular law.


---
Collapse Box
---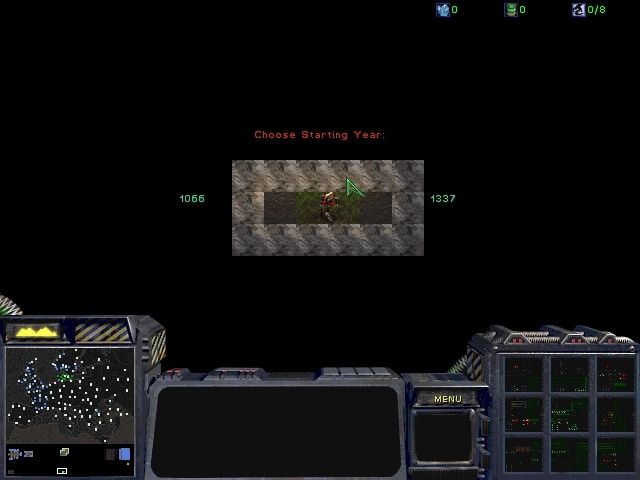 ---
PROGRESS
IDEAS (80%)

TERRAIN (85%)

UNIT PLACEMENT (90%)

TRIGGERS (35%)

UPDATES
09/03/2012
Initial post

12/09/2012
Added economy and County/Duchy upgrade triggers after long hiatus due to school.

1/29/2019
Rebuilt triggering system from ground-up, implemented EUD triggers to modify unit attacks and building graphics. Implemented income, county upgrades, and troop levy system.

2/10/2019
Implemented debt and manpower regeneration system. Beginning work on simple diplomacy options and computer AI.

2/11/2019
Expanded map area; included Red Sea Coast and West Africa, and consolidated user interface.

2/18/2019
Populated Middle East and Ghana/Songhai.

4/5/2019
Continued improving terrain, implemented EUD upgrade and spawn system on Duchy level.

6/11/2019
Revised nation selection system; made it into a mini-map so that selection and diplomacy is more intuitive. Implemented Duchy full range of Duchy upgrades.

6/17/2019
Rebuilt diplomacy menu to contain more diplomatic actions: usurp titles, raise relations, "scheme", divorce, etc.

6/19/2019
Small terrain changes and built rudimentary triggers for Duchy sieges. Improved "feel".

---
Made with the Map Production template.
Post has been edited 13 time(s), last time on Jun 18 2019, 10:45 pm by Brusilov.