So I have a Dell Optiplex 320 in which the power supply appears to be broken (according to some research based on the indicator lights); I was hoping someone could help me find a suitable replacement...
The computer: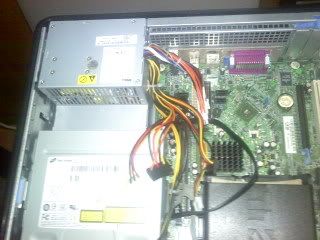 The current power supply:
- Dell Model Num: L280P-00
- Dell P/N: X9072
- 280 Watts
- Bottom cross-section: 13.5cm by 4.5cm (5 1/4th inch by 1 3/4th inch)
- Top cross-section: 9.5cm by 5.5cm (3 3/4th inch by 2 3/8th inch)
- 10 cm tall (4 inch)
- 12.5 cm wide (5 inch)
This fit is
very
snug, I'm looking for this size or smaller, both the top and bottom sections (where you see the vents) rub up against the plugs for the CDDrive and harddrive respectively.
The cords I use: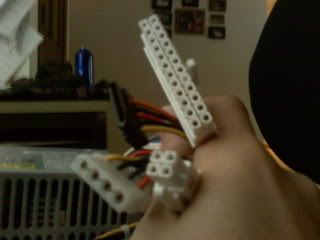 - the top right cord one plugs into what appears to be the motherboards main power intake
- the bottom right one plugs in at the front-most edge of the motherboard, I assume it handles powering on and off
- the bottom left one plugs into my CD Drive
- the middle, black one plugs into my sata harddrive
According to some research the stock power supply for this model is very low quality and they've broken down on many computers; do I have any good options for upgrading this? Thanks!
Post has been edited 1 time(s), last time on Aug 1 2012, 2:27 am by jjf28.
TheNitesWhoSay - Clan Aura -
github
Reached the top of StarCraft theory crafting 2:12 AM CST, August 2nd, 2014.