In light of the recent developments with the contest forum, I think I should have a go at hosting one.
My ideas so far...
Length: One month. No time extensions, period. I am unwavering on this.
Genre: No genre. Movie map, campaign, total conversion, RPG, what have you. If it's in SC:BW and you can run it with or without any measure of third-party programmes, we will be judging the final product.
Mods: Yeah, sure, but they're not required or anything.
Theme: Should we have one? Up to you guys. I prefer 'no theme' but if you guys think there should be a theme, we'll add it to the list of discussion topics, eh?
Teams: No teams are allowed, though if you're lucky enough to know a voice actor, music composer, modeler, what have you and you want to enlist their services for your project, that's fine. As long as the contestant is doing all the map and mod work and the audio/visual work done by other people is done during the contest's spanning, you're good to go.
My stance on past work: No past physical work will be accepted. This means that no direct physical copying of anything other than extended terrain blends like ramps and such from places such as Falkoner's Terrain Compilation or your own past maps may be accepted.
All physical work must be done in the map.
Just so we're clear, copying a ramp or a doodad from your old map or a terrain compilation is okay. Copying an entire base area or an entire quadrant of a map is not. This might seem arbitrary, but it's to promote fairness. Compilation maps are there for you to use and manipulate; the full terrain layer of your past maps are not. Triggers cannot by copied directly, but concepts and trigger systems from other maps can be remade fresh. This means that if you made a kickass inventory system in an RPG beforehand, and you want that system in your new map, you have to hard-copy it in, trigger line by trigger line. How will I make sure this happens? I won't. I'll pretend you guys don't understand the concept of cheating; I'm also pretending that we're all mature adults (legal or not).
Other: Let's have mandatory weekly updates. Check in once a week, at the least, and give us a status update. Did you finish? How many maps are you done with so far? What's the progress of your RPG's terrain? Why are you dropping out? etc. etc.
NOTHING IS SET IN STONE. However, because I want to stimulate the growth of the user-created-content community again...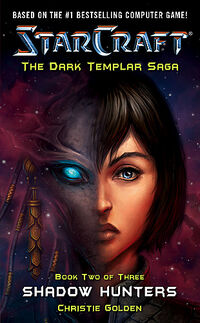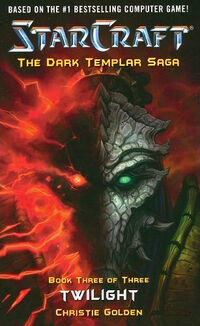 Winners will receive books from Christie Golden's
The Dark Templar Saga
; alternatively, winners can choose a cash equivalent.
FIRST PLACE: Entire trilogy - all three books, paperback. Alternatively redeemable for 30 dollars.
SECOND PLACE: Two books of the three, paperback. You choose which two books you get. Alternatively redeemable for 20 dollars.
THIRD PLACE: One book of the three, paperback. You choose which book you get. Alternatively redeemable for 10 dollars.
That's a total of 60 dollars I'm shelling out (wooh so expensive go meeeee) for the contest. When the scores are finalised within the week after the contest's end (I intend to get my judging done as fast as possible), I will contact the winners before announcing them in the thread and ask them which prize they want.
IF you live outside the mainland 48 states of the USA, and you want your prize to be the books, we will co-ordinate via FedEx or UPS or some shit.
IF you live within the mainland 48 states of the USA, and you want your prize to be the books, we will co-ordinate via FedEx or UPS or some shit.
JUDGES: Pr0nogo, Jim_Raynor
Who's interested?
Post has been edited 1 time(s), last time on Jun 24 2012, 6:09 am by Pr0nogo.